Pottsville Honors Hometown Heroes
Pottsville, PA's Hometown Heroes Banner Program, launched in 2015, honors individuals who serve. The Schuylkill County city believes it is important to honor current, past, and fallen heroes. Patriotic and proud, Pottsville is in the Hometown Heroes Spotlight.
The first Pottsville Hometown Heroes banners were dedicated in a 2016 Memorial Day program. Since then, 220 banners have been dedicated in yearly ceremonies.
Pottsville mayor James Muldowney says it is important to take time to remember those who served our country. "[Banners are a] way to commemorate the fallen heroes of our countries. If it wasn't for them, we wouldn't have freedom."
The city's banners fly above Market, North and South Center, East Norwegian, and Mahantongo Streets, as well as along Laurel Boulevard. Honorees served in wars and conflicts spanning from the Civil War on.
A Historic Honoree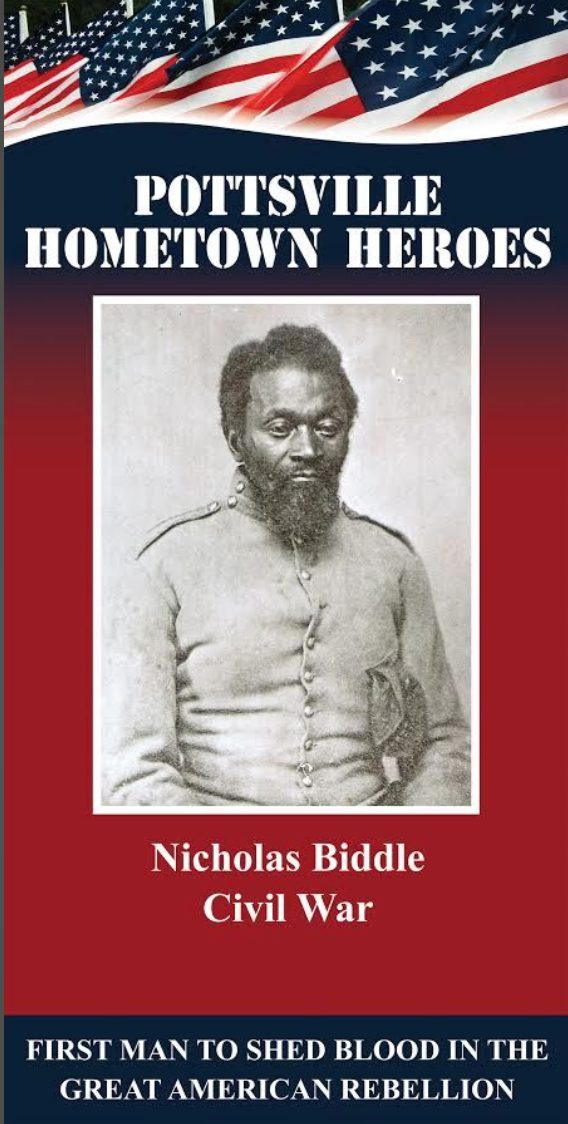 One of Pottsville's Hometown Heroes honorees is Nicholas Biddle, an ex-slave and the man believed to be the first injured during the Civil War. Biddle joined approximately 475 Pennsylvania citizens-turned-soldiers, journeying to Washington D.C. in April 1861 to protect the nation's capital. Sixty-five year old Biddle was attacked and beaten by Confederate sympathizers in Baltimore, while boarding his train to D.C. Biddle sustained a severe head injury. Still, he traveled on to D.C. There, President Abraham Lincoln met with the soldiers and encouraged Biddle to seek medical care. Many of today's Civil War experts believe that Biddle was the first person to shed blood during the war.
The Hometown Heroes banners, made by Holiday Outdoor Decor, are 24" wide and 48" high. Each banner is displayed from Memorial Day through Veterans Day. The banners last 2-3 years, depending on weather, before needing replacement. Each customized banner includes the service person's picture, branch of service, era of service, and the sponsor's name. 
In an interview with a Schuylkill Valley News Organization, retired Army veteran Lt. Col. Ralph Butera pointed out the importance of remembering those who lost their lives during their service.
"We're always used to shaking someone's hand or patting them on the back when they do a good job, those veterans aren't here to do it. So, we'll pat the backs of others and remember." Butera said.
Pottsville Patriotism
A special 2021 Memorial Day Ceremony to dedicate the banners will be held In Pottsville's Garfield Square. City officials commemorate those honored, recorded their names the city's ceremony program book.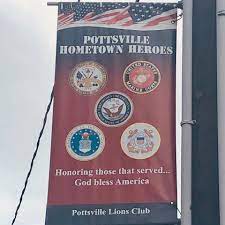 Pottsville prides itself on its patriotism. In addition to participating in the Hometown Heroes program, the city flies 76 American flags alongside their Heroes banners. This past year, residents "adopted" American flags. Gestures and displays like these are part and parcel of living in Pottsville.
City Administrator Thomas A. Palamar said during a virtual council meeting, "Those flags, in conjunction with our Hometown Hero banners, remind our residents of our history, national pride and the sacrifices that a lot of people have made for us to live in this great country."
Pottsville citizens honor their Hometown Heroes, and all heroes who served. Their banner displays are a moving reminder of their deep appreciation for the sacrifices of others.