Hometown Heroes Spotlight: Watkins Glen, NY
Watkins Glen is known by tourists for its auto-racing as well as its breathtaking hiking trails and waterfalls. But locals in the village hope to bring some recognition to villagers who bravely served their country. Read on to see why the Hometown Heroes Spotlight is shining on Watkins Glen, NY.
Banner Program Gets Its Start
The Watkins Glen Hometown Heroes program began three years ago, after a group of local women noticed neighboring towns' banners. Patti Schimizzi, Ande Tallarida-Davis, Julie Symes, and Peggy Richardson used social media to spread the word and build interest in the Hometown Heroes program. Today, Schimizzi, Tallarida-Davis, and Richardson head the Watkins Glen Hometown Heroes Committee.
"At first, we all wondered if anyone but us would purchase banners," says Schimizzi. "But [the program] took off like crazy! The first year we had 66 banners up. The second year, we had over 70."
A Variety of Honorees
Watkins Glen is unique in the variety of those honored. Banners have been dedicated to folks who served in battles ranging from the Civil War to conflicts in Iraq and Afghanistan. Some of the most unique honorees are not even human! A banner honoring military dogs proudly flies outside the local middle school.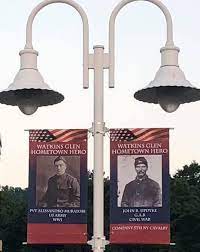 Hometown Heroes banners line several streets in Watkins Glen. The flags fly above the village's Decatur street and continue down several others. Double banner holders were recently installed on what the committee now refers to as their "theme street." Flags on that street vary according to changing themes. 2020's theme was "Women Veterans," and 2021's theme will honor veterans who were killed in action during their service. Other streets honor school district employees and Italian-American veterans.
"Italian-American veterans were honored along 4th Street. That is the parade route for our Italian American Festival," notes Schimizzi.
Building Community Ties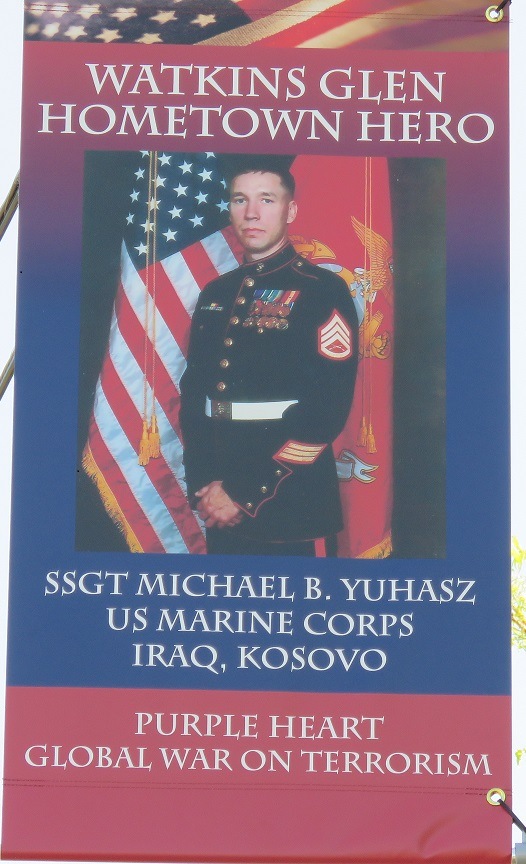 The 24" x 48" red, white and blue banners, made by Holiday Outdoor Decor, include the name and photo of the service person, branch and era of service, and icons for Purple Heart/Silver/Bronze stars. Schimizzi shares that she was thankful for all of the help and guidance provided by Holiday Outdoor Decor staff. Watkins Glen's banners are displayed seasonally for three years, and they come with a two-year renewal option for a fee. To be eligible for display, honorees must have lived in Watkins Glen at some point. Schimizzi says that the program has increased community ties.
"Watkins Glen is a tourist town, but this program is for the residents only. I am sure the visitors to our town can appreciate us honoring our vets, but the residents appreciate that something was started with only them in mind."
Schimizzi would be happy to see other communities join in honoring their own Hometown Heroes. The Watkins Glen committee advertised the program through social media and in their local newspaper. Various local agencies donated to help defray costs and make the program a success.
"Without the help and sponsorship from Schuyler Housing Opportunities Council, we would have never been able to get this project off the ground. We also received donations from the American Legion, Rotary Club, Elks Club, Lions, area businesses and private citizens. These donations are used to purchase all the hardware that is then installed by Watkins Glen's Electric and Street Departments. We receive free storage from the Watkins Glen Middle School Apartments, and free press from the Hi-Lites weekly paper. Finally, the Veterans Service Agency helped with distributing banner applications." says Schimizzi.
Perhaps it's apt that it took a village to come together to honor their heroes. Watkins Glen is proud to spotlight its Hometown Heroes.