Hometown Heroes Program Source of Pride in Phillipsburg
The fifteen flags flapping atop light poles surrounding Phillipsburg, New Jersey's Monument Park have weathered nearly a year's worth of days. There is one flag for each of the town's "15 Sons," boys and young men who were killed in action during the Vietnam War. This moving monument came to life last spring when the town launched its Hometown Heroes Program.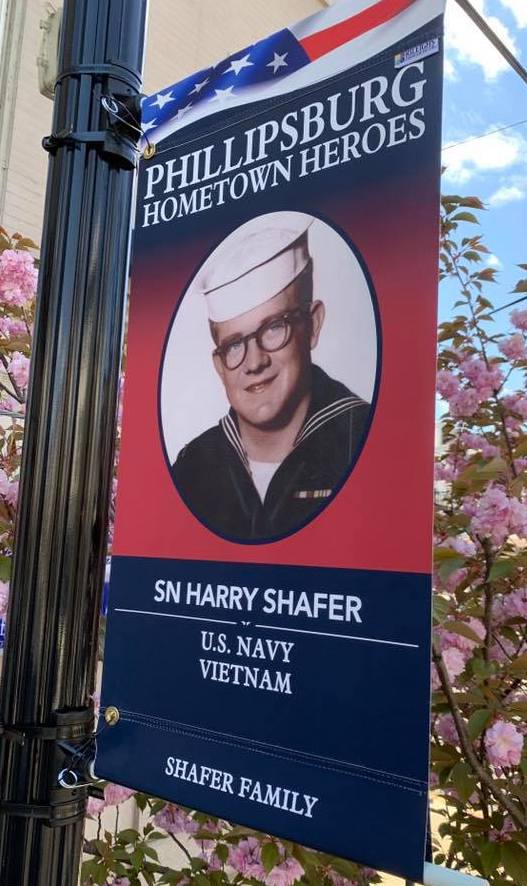 Cory Sullivan knows the stories of the 15 Sons, as well as the stories of many other Phillipsburg soldiers. As the organizer of Phillipsburg's Hometown Heroes program, Sullivan says he was moved by the sacrifices of the men and women featured on nearly 100 banners that line the streets of the small town.
"I spent weeks reading all the awards these people received. All their missions. Their names, their education. I put myself in their place. What if I was only in 8th grade and went to war? That's what some of these soldiers did." says Sullivan, a five-year U.S. Army veteran and graduate of Phillipsburg High School.
Sullivan worked with fellow townspeople Bill Nixon, town council president Robert Fulper, town council vice president Frank McVey, and Mayor Todd Tersigni to bring the Hometown Heroes program to Phillipsburg's Main Street. Sullivan calls Nixon, organizer of Phillipsburg's annual Veterans Day service, "the brains of the project."
The 18- by 36-inch banners, made by Holiday Outdoor Decor, are purchased by veterans or their families. Each banner features a photo of the soldier, along with name, rank, branch of service, war or conflict, and the name of the family or business sponsor.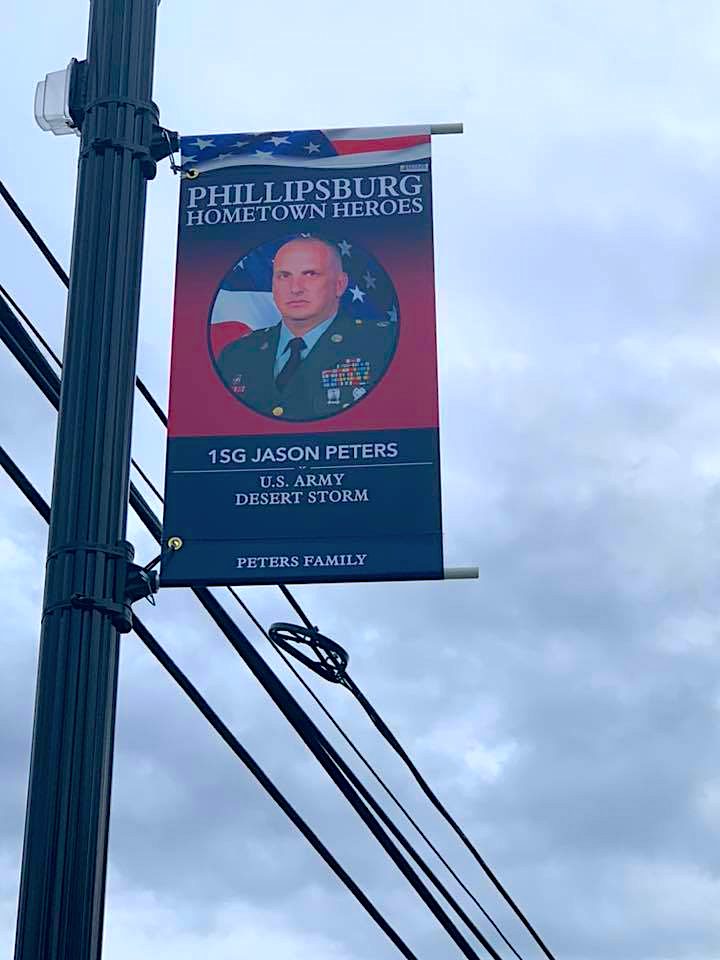 The program works to make the banners affordable for every interested service member, offsetting the costs through donations from local individuals and businesses. The Hometown Heroes website outlines steps to take to launch a banner program and gives details about successfully securing sponsors. In Phillipsburg, Sullivan found that hardware to hang the banners was an expensive part of the project. He worked with local partner, Mary Jo Harris, to secure a grant to offset that $5000 cost.
The flags for Phillipsburg's 15 Sons were provided by local businesses. The town is proud of all of the brave men and women who have served.
"People wanted to help be involved, and people were proud to publicly recognize their family members." Sullivan says.
"I was afraid I would run out of poles last year," Sullivan says. "This town just really supports their service personnel, whether you're talking firefighters, police, first responders, or veterans."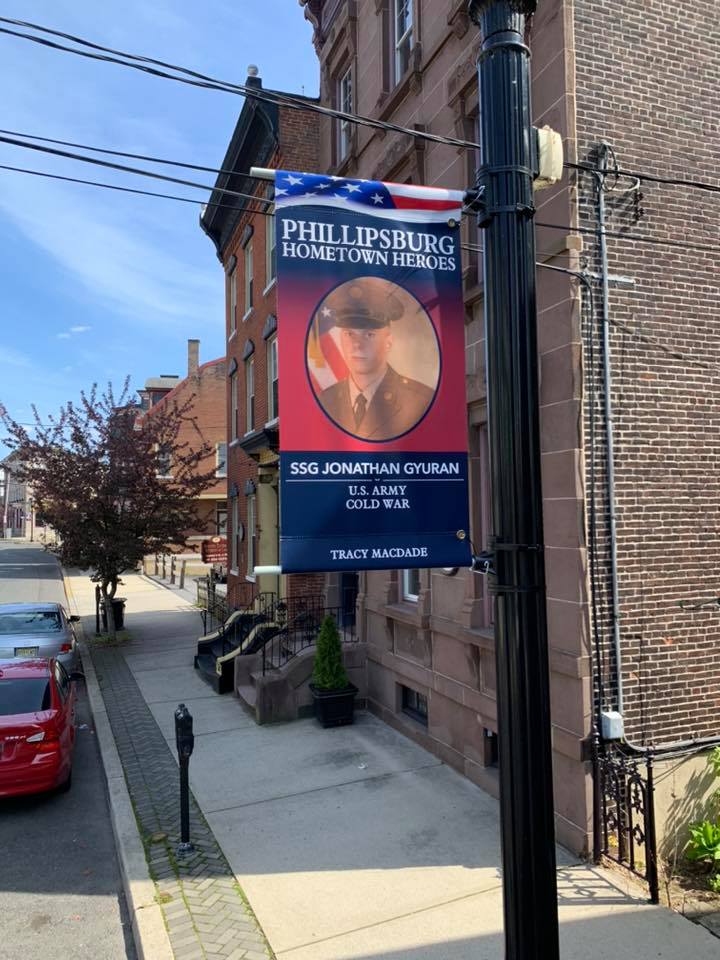 Most of the flags of Phillipsburg's finest will fly each year from Memorial Day until just after Veteran's Day. The 15 Sons will be up year-round. Last year, 96 banners were raised. Each year, Sullivan expects to add more flags to the town's display. Sullivan began taking more applications for banners at the start of January, 2021, and received over 50 inquiries about purchasing flags within the first week of the year. The flags will work their way down South Main Street and eventually extend into other areas of the town.
Sullivan manages a Facebook page, Phillipsburg Hometown Heroes, that details the project and gives information about how to purchase a flag. The page is filled with thank-you's and comments from the families and friends of those who served.